EFLA is proud to announce that we are one of the first foreign companies listed as official supplier for Airfield Ground Lighting (AGL) materials by the Civil Aviation Authority of China (CAAC). CAAC has certified our KR600 Series Isolation Transformers on the 17th of May 2019.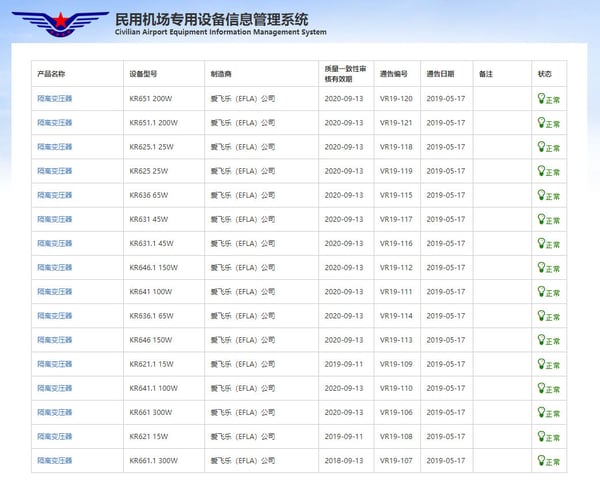 "This certificate strengthens the position of EFLA products and thus support the company's growth story in China," says Veikko Ikäläinen, CEO of EFLA. "We have now a unique certified transformer offering on a global scale."
EFLA is already an FAA, IEC, and MAK certified company and ICAO compliant. This CAAC certification will further support our growth globally, and especially in China. EFLA products are already used in several international airports in China, including the new Beijing airport, which aims to be the biggest airport in the world. We hope to serve more airports in China with our newly certified and highly reliable technology and products.
The certified products can be found on the CAAC homepage:
http://adeqpt.caac.gov.cn/airport-equipment/index.html
The certifications are downloadable here:
https://www.efla.net/certificates
and here: